---
Oval Shape Acrylic Luxury Cosmetic & Skincare Packaging
Acrylic Oval Dispensing Bottles & Cream Jars. Bottle capacity :15ml-120ml, Jar:15ml-50ml
How tired is it after a long day!
Do you hear the relaxing melody is playing for you?
Get ready to indulge yourself!
This is the very first collection that we add up ergonomic element in the design. The arched shape cap of the bottle collection is not only for the good-looking purpose, but also conforms with ergonomics which allows the cap easier to close. Needs sample to give it a try, just contact us!
[Acrylic Oval Lotion Bottle and Cream Jar Packaging Collection. Bottle capacity from 15ml to 120ml, Jar capacity from 15ml to 50ml.]
Lily Melody-VB2/VDA-D series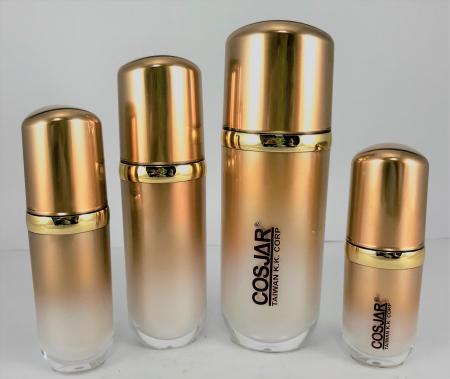 These two super shinny VB2 skin care packaging applied the gold spray painting inside the over cap; on the other hand, the bottles applied 2 color graduated spray painting which is gold from the top and white from the bottom. This kind of color design is perfect for customers searching for the luxury image.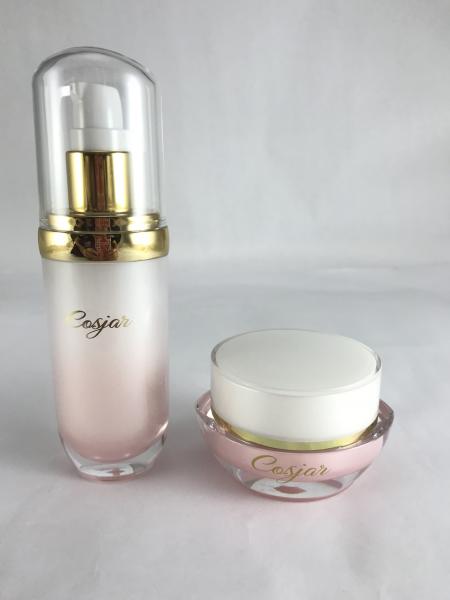 The image of these two VB2 skincare packaging and the VDA-D skincare jar is totally different from the above photo. The bottle applied 2 colors graduated spray painting, white from the top and pink from the bottom. For the VDA-D skincare jar, the jar applied one pearl pink spray painting and the cap applied a pearl white spray painting inside the outer cap.We can find that different decorations give the skincare packaging a new spirit.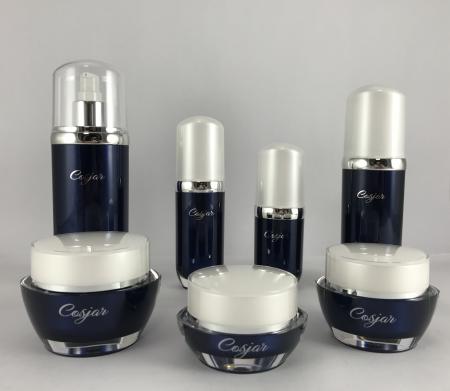 This VB2 skincare packaging applied a dark blue spray painting inside the inner of the bottle which looks classic and elegant and a pearl white cap just like lying down under the sky with thousand of stars. Look for the Korean style skin care packaging? You can't miss this!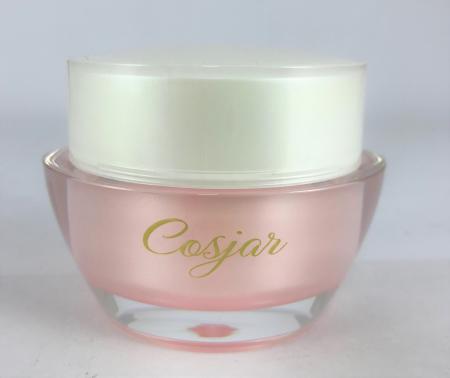 Searching for the limited additional for the Chinese New Year? Look at this Chinese ancient money alike design container? Do you think that with the red or gold spray painting, this skincare container is perfect for the Chinese new year limited edition?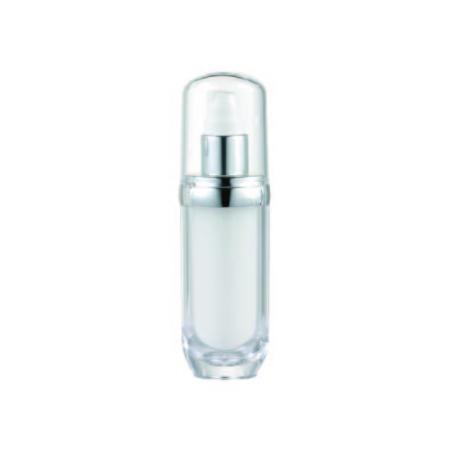 Material data sheet
| | |
| --- | --- |
| Outer bottle | MS |
| Inner bottle | PP |
| Bottle collar | Alum |
| Pump Actuator | PP |
| Pump ring | Alum |
| Cap | MS |
[Acrylic Oval Lotion Bottle Packaging Collection, capacity from 15ml to 120ml ]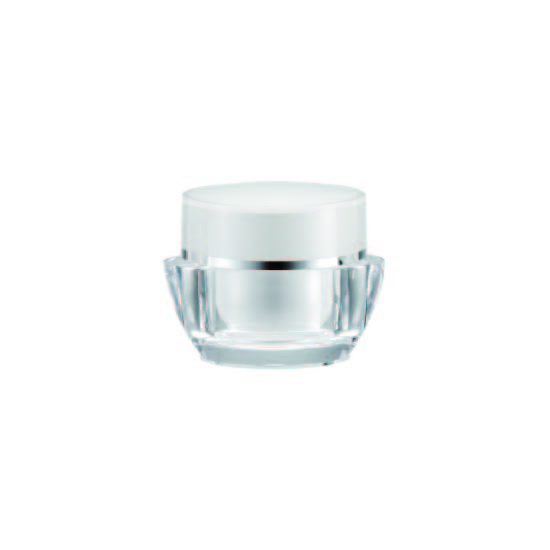 | | |
| --- | --- |
| outer cap | MS |
| inner cap | PP |
| disk | PE |
| inner cup | PP |
| outer jar | MS |
[Acrylic Oval Cream Jar Packaging Collection, capacity from 15ml to 50ml.]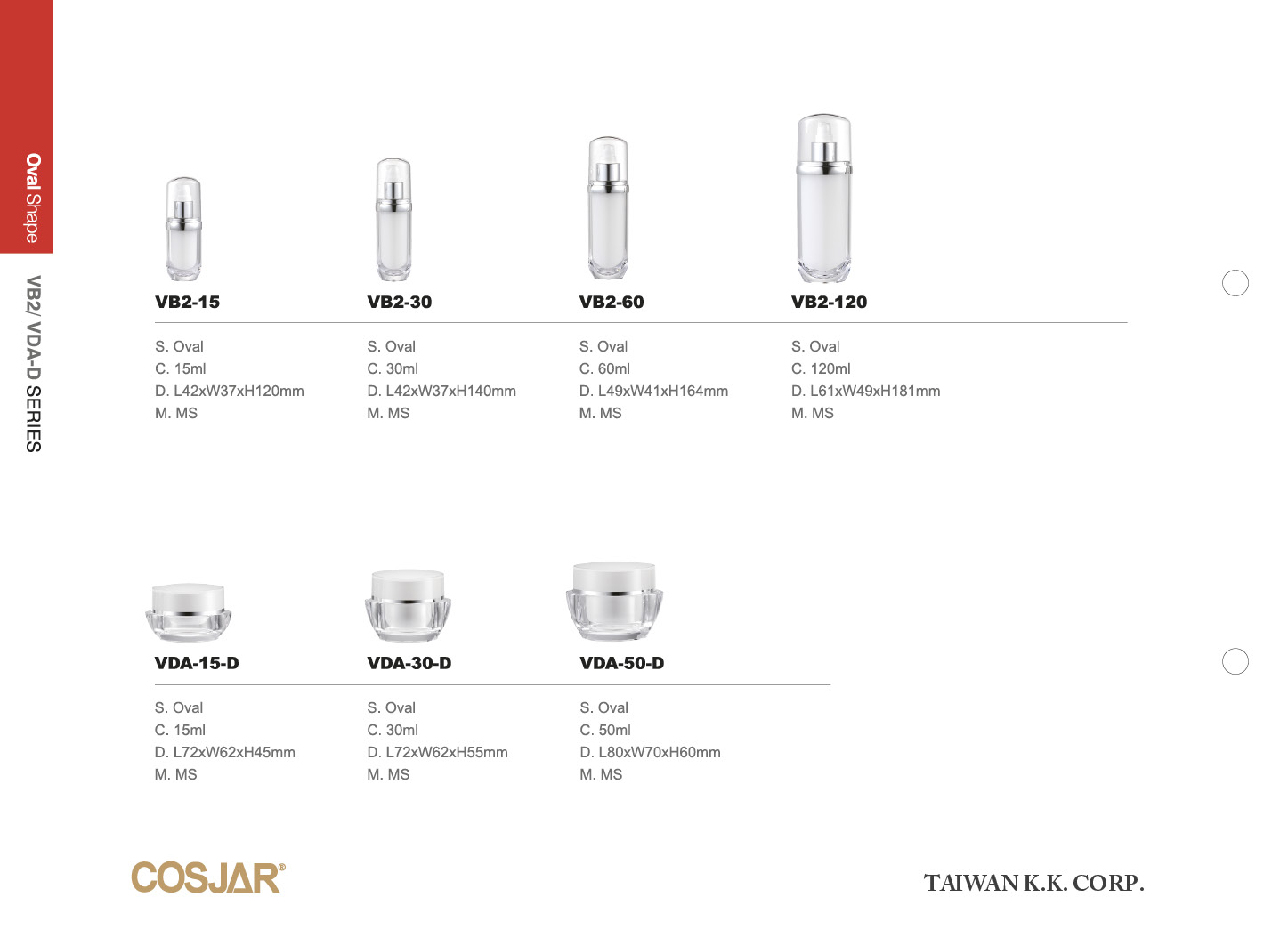 Related Products

---