---
Round Shape Acrylic Luxury Cosmetic & Skincare Packaging Treasure Collection serie
Acrylic Bottle capacity: 15ml, 30ml, 60ml & 120ml. Acrylic Jar capacity: 5ml, 10ml, 15ml, 20ml, 30ml & 50ml.
Treasure collection is one of the double walls skin care packaging of COSJAR's round bottle series.
The series name is inspired by the unique chassis of the bottle bottom design, unheard-of treasure steadily and peacefully falls asleep in the deep ocean. There are three different overcaps could be combined with various capacity from 15ml, 30ml, 60ml and 120ml bottles.
These are also COSJAR'S double walls bottle regular sizes.
The first cap is a simple round cap with slightly curved top; the second one is hat cap, this is also a curved-top cap with brim around the cap which coordinate to the bottle bottom; and the last one is diamond cap, there is diamond-cut on the cap top, this is the most popular overcap selected by plenty of customers. Imagine a treature hunting boat sailing, diamond cap looms shiny in the dark deep ocean, it has beautiful, sparkling refraction when the searchlight scattered on the diamond cut cap top.

ED cream jars are just like those antique coins we saw from the museum, sleeping together in the treasure box; the cap shape is singular which rarely seen from the current cearm jar in the skin care packaging market. The jar bottle is narrowed base which makes the whole cream jar small and exquisite. The capacity is available from 10ml/15ml/20ml/30ml and 50ml, all of them share the same size cap.

Both of the EB bottle overcap and ED cream jar cap could be applied a shiny gold or shiny silver foil rim to add a little bit more luxurious decoration.

There is a special tiny little cutie in treasure collection series: ED-5 small jar.
The standard cap of ED-5 is white flat ABS cap, double-walls jars. White ABS cap is more eco-friendly and has better fastness if applied the colorful metallization on the cap surface. It is a perfect size for eye care, lip plum, lip care products or spot care products, small and easily to put in girl's purse, or carrying when travel. The most amazing part is that COSJAR has a tiny little diamond cap which special designed for the ED-5 cream jar. Like a portable diamond accessories, make girl feel cherished everytime when they pick up from their purse or touch up their make-up.
The most cherished memories of the past becomes the pleasure of present time
from the moment the treasure was found.
[Acrylic Round Lotion Bottle and Cream Jar Packaging Collection. Bottle capacity from 15ml to 120ml, Jar capacity from 15ml to 50ml.]
Treasure Collection - ED / EB serie
We are always ready to provide the best packaging solutions for your brand needs. If your vision goes beyond our portfolio, we are equipped with teams around the world solely dedicated to providing customized packaging solution for every texture of makeup.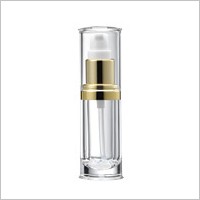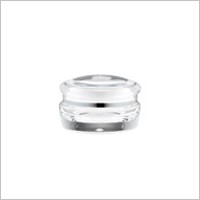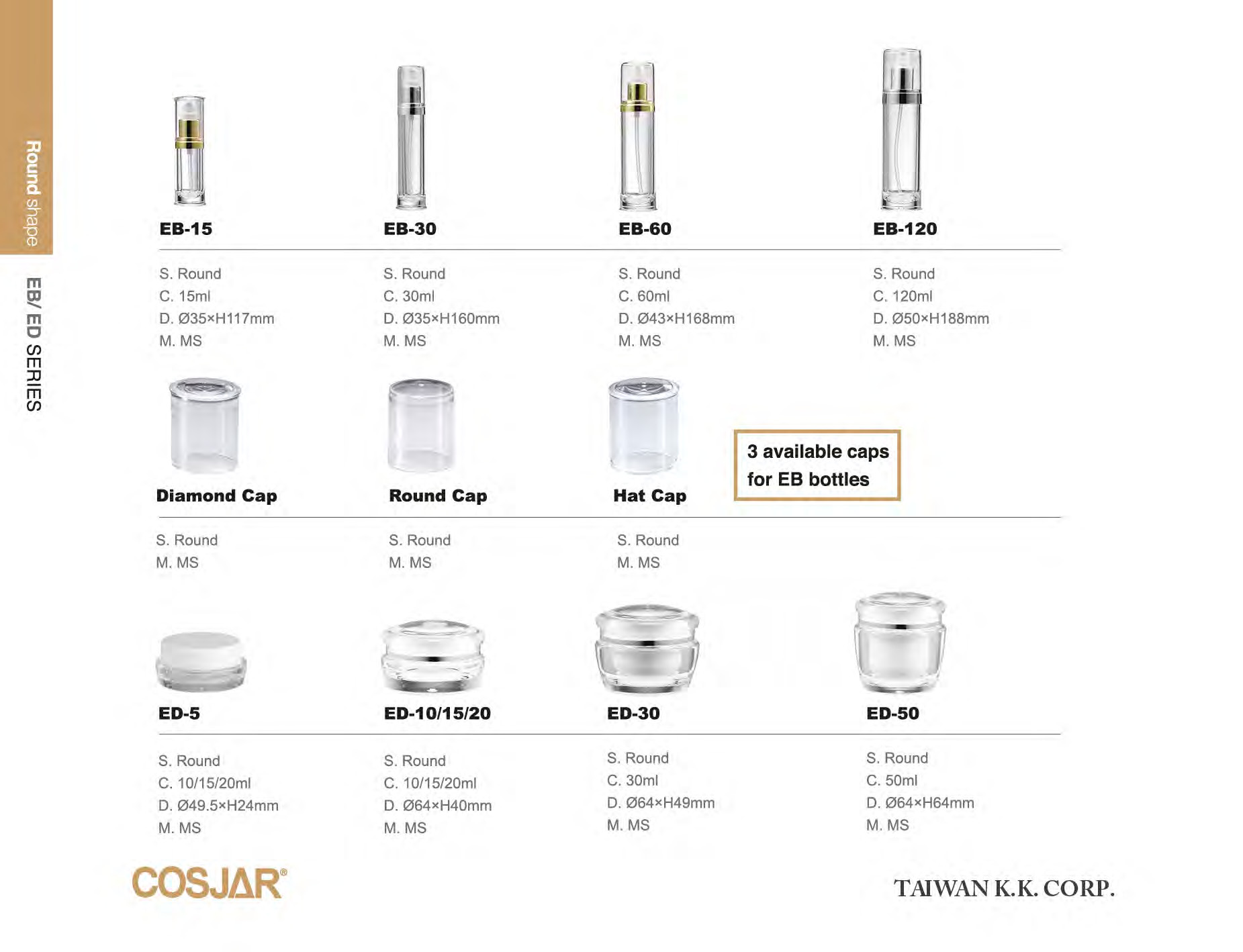 Related Products

---

Files Download

---