---
Love Potion (Small Capacity Cosmetic Packaging Series)
Bottle capacity : 3ml-5ml, Jar: 5ml
Mirror, mirror on the wall,
Grant me beauty as flower, dance as wind, sing as nightingale!
Grant me true love forever more…
JB Series / JD Series
Love portion series is with small capacity bottles and jars set, perfect for trial kit or travel set.
Two parts construction are friendly recycling and easy using.
The unique spiral cap design gives a luxury image onto a simple bottle and jar.
These could be also conbined with our EGYPTIAN SUNRISE series, regular size lotion bottles and cream jars available from 15ml to 120ml, enrich your facial products line up become a whole series included 3ml lip care, 5ml eye care product and 120ml toner or lotion…etc.
There are two options parts for small bottle: screw cap and squizer / dropper.
You could keep the white ABS collar which looks clean and aesthetic or having the shiny silver / gold metalization to add a little bit metallic effect.
No need to worry about the metalization part will be peeled because the ABS materials make the metalization part a good fastness, it could stay longer than metalliation on PP or other plastic.
For bottle and jar, transparent acrylic gives a high-end image, of course we could do the color injection to coloring the bottle and jar based on customer's brand design.
Crystal clear, transparent color which could see through the bottle or opague / solid color to protect customer's ingredient if needed.
Just because they are small , doesn't mean we're unable to do the printing or hot stamping.
Our silk screen printing skill could precisely print customer's logo or product name on the bottle.
Not only one color, the maximum could be four colors printing.
Isn't it great?
Use small bottle and jars but still having the original logo printied to glorify your skin care products.
JB-8, JB-8-A case is optional packing case based on customer's marketing plan.
Both of JB-8 and JB-8-A is 8 bottles pack, made of acrylic as well.
JB-8 is square shape with a curved lined upper cap ; JB-8-A is right angle upper cap, looks like a jewel box.
These are suitable for ampoule products since there are seven days in one week, each bottle / per day.
The extra one could keep for special circumstance or emergency.
The 8 bottles are also flexible for 3ml or 5ml bottles, which means there will be various packing options:
For example, four of 3ml screw cap bottles with 5ml dropper bottles packed in one case, or one 5ml dropper bottles with seven of 3ml screw cap bottles…etc.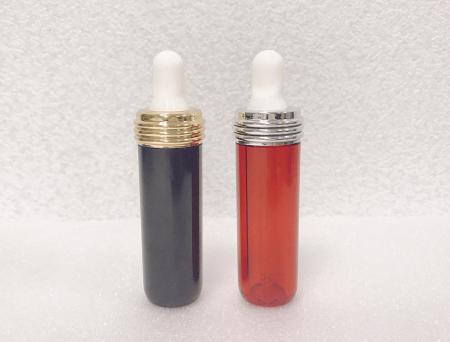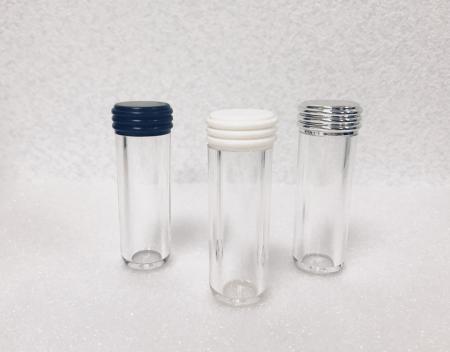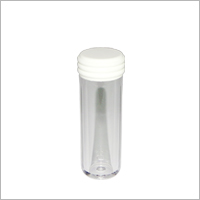 Material data sheet
| | |
| --- | --- |
| Outer bottle | MS |
| Inner bottle | |
| Bottle collar | |
| Pump Actuator | |
| Pump ring | |
| Cap | MS |
[Acrylic Round Lotion Bottle Packaging Collection, capacity from 3ml and 120ml ]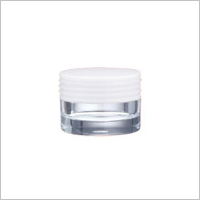 | | |
| --- | --- |
| outer cap | MS |
| inner cap | |
| disk | |
| inner cup | |
| outer jar | MS |
[Acrylic Round Cream Jar Packaging Collection, capacity 5 ml.]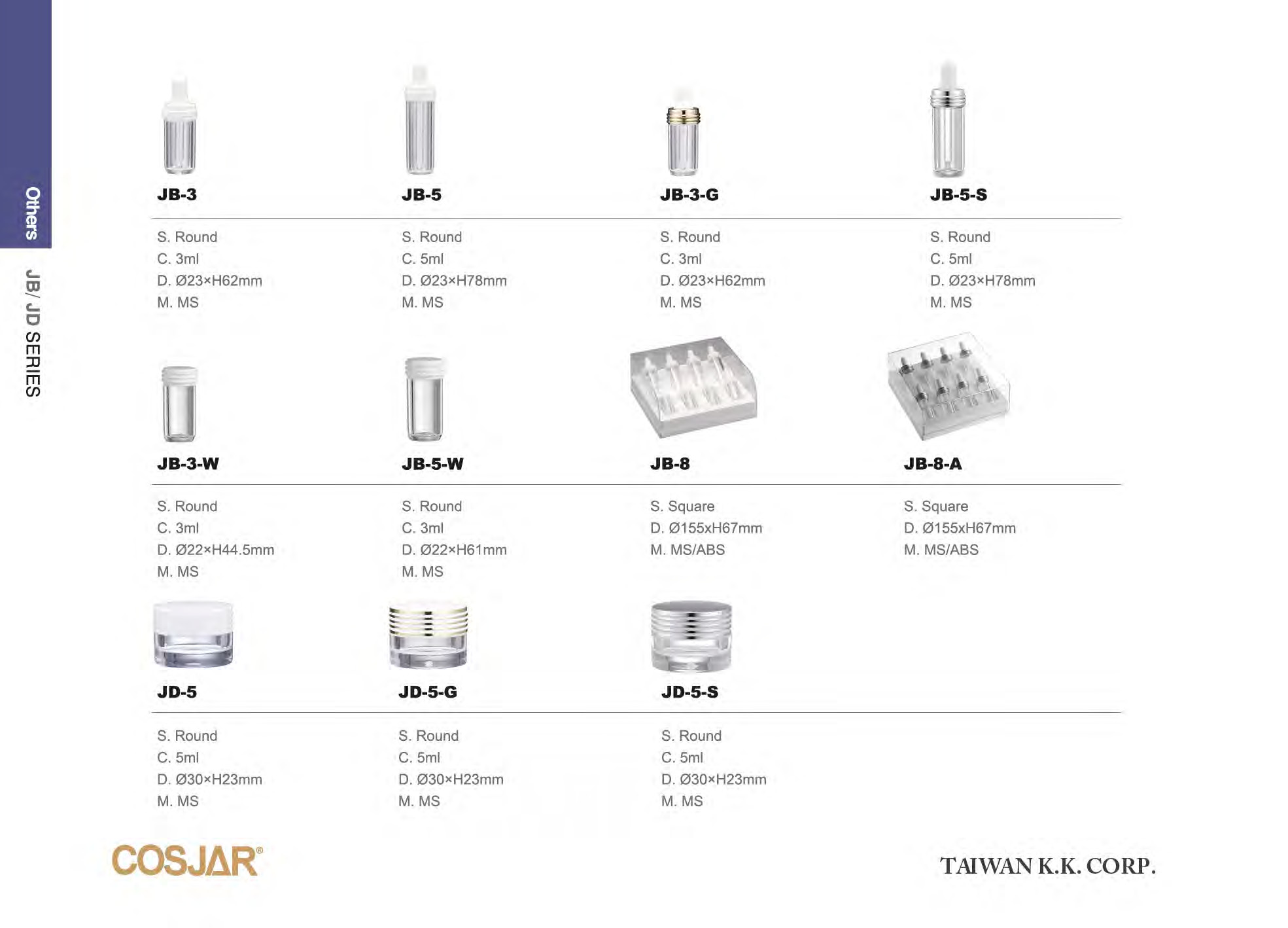 Related Products

---

Files Download

---